Hyundai Battery Services In Wichita Falls, TX
Don't end up with a dead battery at the worst possible time. Be sure to take advantage of our prompt and professional battery services at Foundation Hyundai of Wichita Falls. We can help you get more life from your battery and provide battery replacement service in minutes. Be sure to visit us today if you are located in the Wichita Falls, Pleasant Valley, Lakeside City, Dean, Jolly, and Sheppard AFB, TX region.
Battery Services
Your battery is essential when it comes to operating your vehicle's electronic equipment, so you should get regular battery service. We provide vital battery care that can help protect you during extreme weather conditions. Here's a look at our available battery services:
Battery Replacement - When your battery cannot consistently start your vehicle, our technicians can remove it and replace it with a new manufacturer-approved battery.
Learn More
Terminal Cleaning - The battery terminals can sustain a buildup of corrosion that makes the connections looser; we can clean the terminals and tighten the cables.
Battery Inspection - Our technicians will inspect the battery for physical damage and perform a test to make sure that it can still hold a sufficient charge.
Hyundai OEM Batteries Available
Make sure that you only get the most robust battery for your Hyundai. At our service center, we offer Hyundai OEM batteries. Hyundai specially designs these batteries to provide you with the high level of performance that you demand. Not only that, Hyundai OEM batteries are designed to last. You can be sure that we are always offering you a top option at our service center.
Signs That Your Battery Needs Service
Don't get left on the side of the road due to a dead battery. Here are the tell-tale signs that your battery needs immediate servicing or replacement:
Weak lighting - Are your exterior and cabin lights not as strong as they used to be? This could be a sign of a weak battery.
Clicking sound at start-up - Older batteries will have trouble at start-up and a clicking sound when you try to turn over the engine.
Battery corrosion - Look for orange or green splotches on the battery casing as signs of corrosion.
Our Hyundai Dealership Amenities
We are proud to have one of the top ratings in the area. That's due to our dedication to customer care and our amenities. For instance, you can relax in our waiting room and enjoy programming on our high-definition TVs. We also have popular snacks and drinks available at our nearby vending machines. Finally, you can catch up on current events with our collection of newspapers and magazines.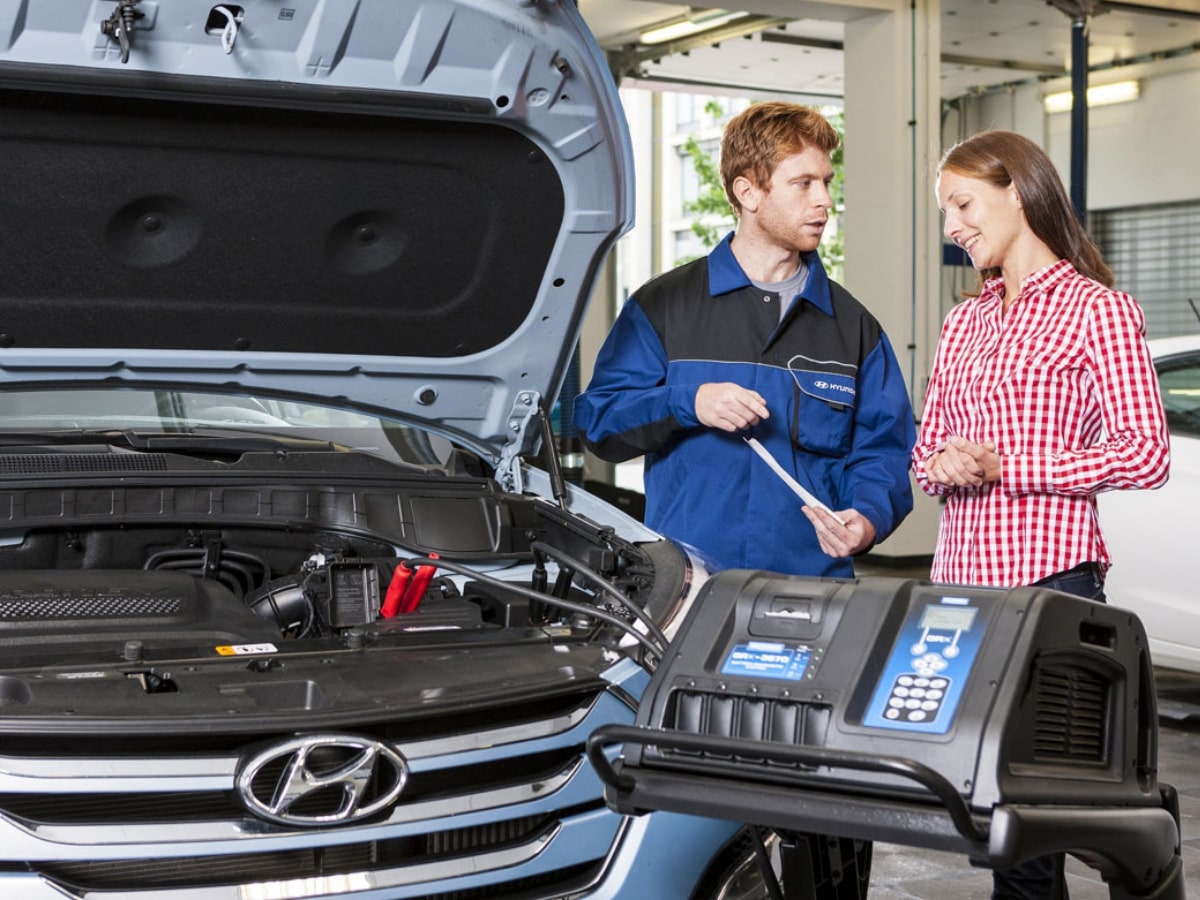 Schedule Hyundai Battery Services In Wichita Falls, TX
Choose Foundation Hyundai of Wichita Falls for high-quality battery service. We are ready to take your appointment by phone or online. Discover our Hyundai-certified difference today.